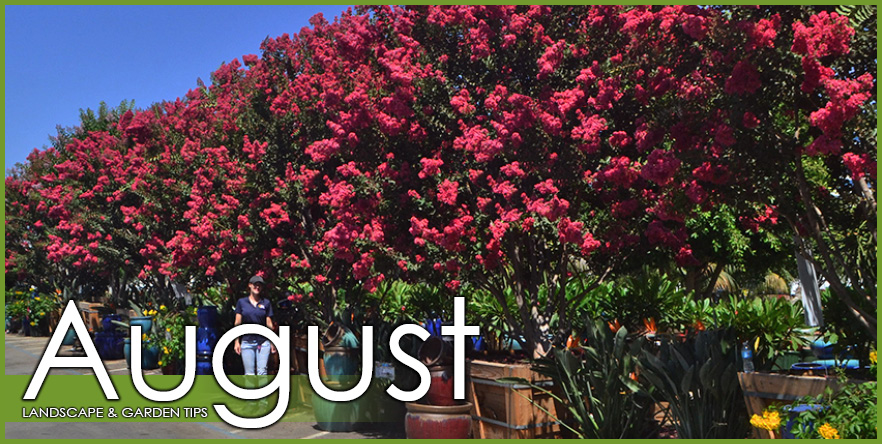 The month of August already gets a bad rap. The month of August always get a bad rap. Maybe it's because school is back in session or maybe it's because we've gone though two summer months and we've finally have had enough!
We're all looking forward to those cooler days, but before we get there we still need to keep a close eye on our landscape. Our nursery pros have compiled a few tips, tasks, and what to plant for your landscape this month.
To Do List:
Watering: Our region is big and the climate can change in minutes depending on where you are. Regardless, due to the higher temperatures you will want to apply more water to the material on your landscape. Common questions like "how much water do I use" and "how often do I water" are all answered here in our Best Watering Practices.
Protect The Trunk Of Your Trees: Getting a sunburn is one of the worst parts of the summer. Fortunately for us, we can recover with aloe vera and by staying indoors. Unfortunately for our y

oung trees, especially citrus, they just can't pick up their roots and move. To provide them with protection you can prevent sunburn with

Protective Tree Wrap, which is available at any Moon Valley Nursery location. To further protect your tree, young or old, you can stake them. This provides stability when high winds come in. Moon Valley Nursery also offers staking services as well.

Click here to map a location near you

.

Fertilize: August is a tough month for the material our your landscape. With higher temperatures, trees and shrubs may show heat stress. Use Moon Juice to help heat stressed trees and plants. This will prime roots for fall feeding as temperatures drop. You can also give your lawn a boost with specialized fertilizers like our fast acting Moon Royale Professional Turf Fertilizer. In most cases, you will see results in just four days, and it gets stronger as it goes to work greening up your lawn. If your palms are showing stress, apply our Super Palm Juice. Will turn palms green and keep them green.
Prevention: Check plants for pests and disease paying special attention to new growth. If there is doubt bring photos into our nursery for treatment recommendation. Moon Valley Nursery stocks all of the things you will need for your weed prevention plan at our locations.
Mulch: With temperatures increasing , mulching is going to be extremely important for the next few months. Mulch any area where the sun is shining directly on the dirt. The mulch allows the roots to keep cool and moist. Moon Valley Nurseries has a great selection of mulch to choose from.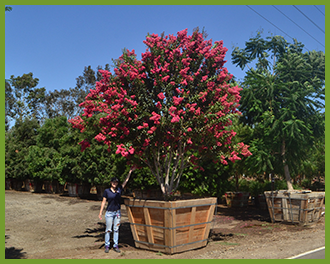 Crape Mrytle
Our customers are always looking for ways to add splashes of color to their landscape. With so many options and varieties, it can be a difficult choice. One of the best choices for beautiful bursts of color throughout your yard is the Crape Myrtle or Lagerstroemia. These awesome trees bloom from late spring through the summer and are the perfect summer addition to any front or back yard. These small trees produce exquisite colors in purple, pink, red, and white and look aesthetically pleasing to the eyes when they are planted in clusters on side views or accent locations on your yard. Due to the hard and diligent work of plant breeders in our industry, there are now many cultivars being sold that are mildew and disease resistant. At Moon Valley Nurseries we only offer hybrids that are resistant to these diseases so our customers will not have to treat with harsh chemicals.
Museum Palo Verde
A common and recurring question that our experts receive are ways that homeowners can limit their water usage in their landscape. Or more specifically, what is a good choice for a low-water using shade tree that will still offer that 'WOW' factor. One of the best choices to emerge during this period of drought, and one tree we recommend, is the very colorful Museum Palo Verde. This desert beauty is rapidly becoming one of the most popular drought-tolerant trees for our customers and professional landscapers. It's spreading open canopy of shade, is supported by blue-green, sculpture like trunks that provide a stark contrast to just about any landscape. In the spring, breathtaking yellow flowers emerge and cover the entire tree. The Museum Palo Verde's layered shade makes the tree look light in your yard while providing very cooling shade for your home.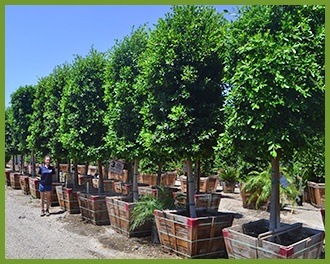 Ficus
The Ficus Nitida, or Indian Laurel, is a beautiful dense shade tree that looks amazing and has many landscape uses. This tried and true tree has shown its ability to thrive in the harsh conditions in our region. Because of its durability, beauty and mass amounts of shade it provides the Ficus Nitida has become the top selling tree we grow...and the most asked about.Ficus Nitida trees can be used in many different ways which contributes to its vast popularity. For basic shade, there is no better tree. The dense, thick foliage of the Ficus Nitida provides the absolute coolest shade available in our area. Ficus columns, when planted in rows, make great hedges that are commonly used as a privacy screen to block unwanted views, nosy neighbors and even flying objects, like golf balls from your friendly weekend golfer!
Vitex
Although the Vitex is known by many names it is best known for its beautiful spikes of purple blooms is has in the summer months. The Vitex is prized for not only these unique desert blooms, but also for its natural ability to attract butterflies to one's landscape. One of the plant's common names, monk's pepper, references the use of its seeds as a pepper substitute in monasteries, where it was prized for its intrinsic effects on virility. The small stature and low maintenance requirements of the Vitex allow its unique properties to be brought into just about any landscape. The turning, twisting trunks contrast well with the larger, more uniform trees commonly seen in Sonoran landscapes. Vitex trees establish quickly and are well suited for full sun exposure.
Magnolia
Looking to add classic beauty and tons of variety to your landscape this spring? Look no further than the always popular Magnolia. A symbol of the South, the Magnolia is an eye-catching tree with its striking foliage, spreading and large canopy, creamy white fragrant blooms, and elegant evergreen appearance. The Magnolia is a moderate growing tree that is large enough to provide shade as well as a beautiful focal point. They tend to look more pyramidal in shape when they are young, and don't be fooled by this appearance. For all the great variety the Magnolia has, it is more known and famous for its very showy white blossoms and the beautiful fragrant smell that comes with them. The flowers are large, cup-shaped, and dot the tree in the spring and early summer months.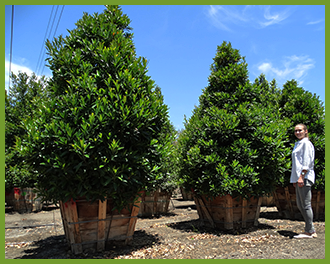 Japanese Blueberry
The Japanese Blueberry is a visually appealing evergreen due to its dense, lush foliage and striking leaf color throughout the year which provides a fantastic backdrop for contrasting flowers and shrubs. It thrives in full sun and handle the cold extremely well. It has become one of regions most planted hedge variety and is an excellent choice for just about any landscape.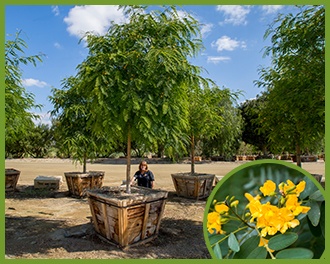 Tipu
The Tipu is a great tree in any landscape for quickly creating massive canopies of shade to cool your home, shade a patio or protect the other plants in your yard.It also requires little maintenance as it does extremely well in many soil and drought-like conditions. Because of its toughness it has quickly become a favorite street-lining tree in many areas and as the shade producer in many of our home landscapes. This is also one of the best water wise trees around.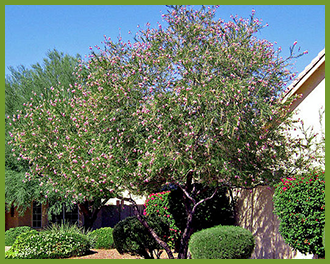 Desert Willow
Named for its resemblance to Willows, this drought tolerant water-wise tree performs well in any landscape in our region. This hardy tree handles extreme temperature ranges and produces exotic-looking blooms from May to September. This fast grower requires little maintenance and does best with just enough water to keep it green and blooming throughout the warm summer months. Also of note, the Desert Willow comes in a variety of cultivars with remarkable differences in flower color, leaf form, and branching characteristics.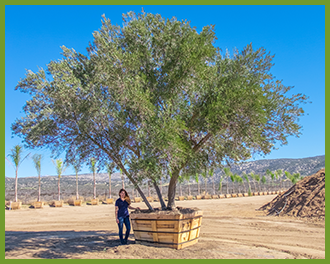 Olive
Moon Valley Nursery offers three beautiful olive trees from our farm that has been growing olive trees for more than 50+ years. Fruitless olive trees are available in Arizona and Las Vegas and "fruiting" olive trees like the Mission and Manzanilla are available in California. Click on the variety below for more info. Fruitless | Mission |Manzanilla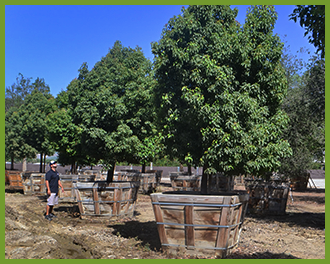 Camphor
A fast growing, dense, shade-producing tree that grows to a moderate height, the Camphor Tree looks great in any landscape design where a lush appeal is desired.. This uniquely shaped tree grows well in any soil type and requires very little maintenance. A solid performer for our region, this tree is hardy and heat tolerant. Along with its beautiful green bark and fragrant foliage, the Camphor never loses its leaves, which makes this a great choice for the inexperienced or over-worked landscaper.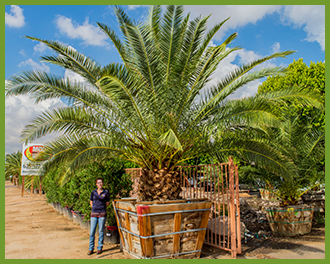 Pineapple Palm
Named for its resemblance to a pineapple when the palm is younger, the Pineapple Palm produces wide fronds and requires space when planted around a pool. It grows slowly, eventually forming a wide trunk and its fronds begin to rise from the ground, creating a classic palm tree shape. The Pineapple Palm can handle the cold and loves the sun. It's a popular choice for tropical landscape and is commonly seen around resorts.
Queen Palm
Specially grown at Moon Valley Nursery farms, the Piru Queen Palm is unlike other Queen Palms. Our Piru Queen Palms feature thicker and harder trunks, denser and greener fronds, and produce fuller crowns than other Queen Palms. Moon Valley Nurseries Piru Queen Palms can handle hot summers, cold winters, and windy days. The Piru Queen Palm is supported by a narrow trunk which makes it ideal in tight spaces around your pool, but it does require overhead space as the palm grows to statuesque heights.