Back to main Blog
Luke Kalawsky
Luke Kalawsky has a passion for all things trees, plants, and landscape design. He has designed numerous landscapes as the head designer in the Surprise, Arizona region until he became a manager of our Central Phoenix Nursery. He now dedicates his knowledge, expertise, and creative capabilities to help the masses discover how to design, plant, and maintain their landscapes with his writings.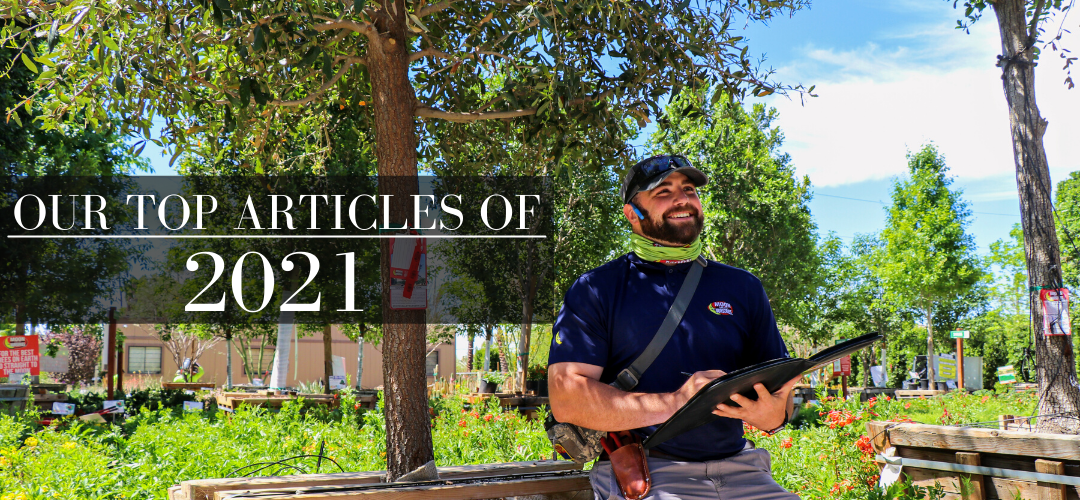 Our Top Articles of 2021
The end of the year is a time to look back over the events of the past twelve months and look forward to the upcoming new year. Over the course of 2021, our nursery pros have put together some amazing articles helping countless homeowners design, enhance, care for, and renovate their landscapes.
We've put together a list of our top 10 blog articles over the last year. We've included many fan favorites and helpful guides. Whether you're looking into the best advice on when and what to plant or care for your trees and plants, you can find it all here! Enjoy our top articles of 2021!
We can grow drought-tolerant evergreens in Texas that can help keep us cool during the summer days. Here are our top picks for the best evergreen trees to plant for summer shade!

With the right evergreen trees, you can create a landscape that is both peaceful and private, while allowing you to enjoy your yard without unwanted sights and noises!
Magnolia trees are a favorite in Texas! They are often used as a centerpiece in many gardens throughout the area with their dramatic canopy, glossy leaves, and creamy, fragrant white flowers!
Oak trees are a staple in Texas landscapes. Learn how to properly care for oak trees so that generations upon generations can enjoy these trees for many years to come!
White flowering trees can beautify your landscape and increase the value of your home. These blooming trees can provide a beautiful spot in your yard for gatherings, picnics, and relaxation.
Enjoy the beautiful sight of purple flowering trees in any size landscape! Learn about the 5 best flowering trees to plant in your yard for glorious purple blooms in Texas!
Privacy matters, so plant these hedges this spring! Keep spying neighbors from peeking over the fence. We can create a private area and increase property value at the same time!
Everyone loves palm trees. They have a graceful, tropical appearance that augments a yard and adds wonderful curb appeal. Here are our top cold-hardy palm trees for Texas landscapes!
Bring some life to your landscape! Our nursery pros cover the best trees and shrubs to attract some gentle activity to your yard and create a tranquil scene in your garden!
Discover the best trees and palms to plant around a pool. If you are looking for tropical style, shade, or privacy around your pool, these trees will do the job beautifully!
Our blog has tons of great information for homeowners looking to elevate their landscape. If you'd like to read more or find specific tips and tricks pertaining to the specific trees and plants in your yard, or the season of the year, check out the rest of our great articles here!
We love to provide a wealth of helpful landscaping tips on our website, but we also love to answer questions in person and over the phone as well! Our nursery pros at every Moon Valley Nurseries location are happy to help you with any need.
Whether you'd like to discuss planting some new trees and plants, design a beautiful garden from scratch, care for struggling trees, clean up an overgrown landscape, eliminate pest attacks, gain a larger crop from fruit trees, or plant a dense wall of privacy hedges, our nursery pros and professional landscape designers have you covered!